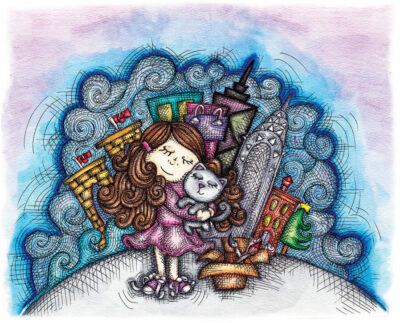 In A Few Words
Paper Goods and gifts celebrating small moments in the big city. We sell illustrated greeting cards, prints, and decor items in paper, wood and fabric.
Description
About A Cloud Co. is a paper goods and gifts studio that's all about capturing small moments in the big city. Founder Widad Franco creates art that channels her unique life experiences through a whimsical lens. In her illustrations, the vivid colors and vibrant textures that surrounded her in Ecuador meet the giant skylines and grand old buildings of big cities. She likes to focus in on the details of everyday city life, like bodega cats lounging on cardboard boxes, street performers playing sweet tunes, and hectic trains packed with colorful characters. Her watercolors are embellished with ink cross-hatching to conjure a playful style that catches the eye and teases a smile. All of these designs adorn cards, stickers, and other paper goods.
About A Cloud Co. is driven by the desire to make people happy and help them share a special connection through a small piece of carefully-made tangible art.